8 Ways to Make Healthy Pregnancy Habits Stick After Your Baby Comes
Author: Amy Adams, Clinical Pharmacist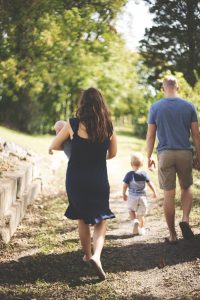 Many couples make healthy lifestyle changes to improve their fertility. When you were trying to get pregnant, you may have begun new healthy habits. However, once the baby comes your whole world changes. It can be challenging to continue the healthy habits you developed when you were trying to get pregnant. If you want to continue practicing these good habits, here are some tips to help your healthy lifestyle stick after the baby is born.
Adjust Your Exercise Routine
Be sure to allow time for your body to recover from childbirth and ease back into your workouts. Once you are ready to exercise again, start slowly with low-intensity workouts. Adjust your postpartum exercise routine around your new schedule as a parent. Look for ways to exercise safely with your baby. You could enroll in mommy and baby workout classes or take walks around the neighborhood with your baby. Consider purchasing in-home exercise equipment so you can work out with your baby nearby. Always consult with your healthcare provider before making changes to your exercise routine.
Make Grocery Shopping More Convenient
A new baby will keep you busy. Look for ways to save time and still get the nutrients you need from a balanced diet. Keep salad mixes, precut vegetables and healthy snacks on hand. You can also shop online and have your groceries delivered to your home.
Focus on Healthy Habits at Family Meals
Start building healthy eating habits for your family as soon as you get home from the hospital. Friends and loved ones may want to prepare dinner for your family. Don't hesitate to suggest nutritious meals and make dietary requests. You may not follow a strict meal plan but you can plan ahead. On days when you have a busy schedule, make sure quick, nutritious meals are ready to go. This can help you avoid eating fast food.
Continue Focusing on Nutrition
Good nutrition is one way expectant mothers stay healthy during pregnancy. Eating nutritious meals is also important after you give birth when you're breastfeeding. Women who are breastfeeding have additional nutrition needs. When you're already focused on good nutrition, used this time to set healthy habits that can continue as your child grows. If you're having trouble maintaining a balanced diet, visit your local Hy-Vee store and ask to speak to a Hy-Vee registered dietitian. Hy-Vee Pharmacy Solutions (HPS) patients can talk to licensed-registered dietitian Megan Hall.
Control Your Cravings
Hormone changes in pregnant women often lead to junk food cravings. Once you've given birth, however, you may still have cravings. Lack of sleep and physical exhaustion may cause you to overeat and crave unhealthy snacks. Eating regular, nutritious meals can help manage your hunger and control your cravings. If you do snack, be sure to have healthy options readily available. Once you get your cravings under control, it's easier to get back on track with a balanced diet.
Take Care of Yourself
When your baby comes, your schedule begins to revolve around your new bundle of joy. It's important to make sure your baby's needs are met, but make sure to schedule some time for yourself. In order for you to function at your best, you need rest and self-care. When you are your best self, you will have a better chance of sticking with your healthy lifestyle goals. Self-care can help you manage stress and live and healthier, happier life overall.
Set Lifestyle Expectations with Your Partner
As you build your family, set lifestyle expectations with your partner. Discuss how you will approach meal times, screen time and exercise routines. Hold each other accountable when it comes to making healthy choices and help each other reach your wellness goals. As you build your family, establish healthy habits when your kids are young. This makes it easier to raise a healthy, happy family.
Build a Support System
It takes a village to raise a child, according to an ancient proverb. Don't hesitate to ask for help from your partner, family members and friends. Whether you need help sticking to your new exercise program or you need a babysitter to get some time to yourself, remember you don't have to do it alone. The people in your support system can help cook, clean and care for your baby while you adjust to a new routine. This support system will be a lifetime thing, just like your role as a parent.
Hy-Vee Pharmacy Solutions (HPS) can be part of your support system throughout your pregnancy journey. Our experienced team of fertility experts is available 24 hours, 7 days a week to help you and your partner manage fertility treatments. HPS is more than a specialty and infusion pharmacy. With a comprehensive approach to patient care, our goal is to help our patients to live easier, healthier and happier lives.