Help Prevent Birth Defects with These 8 Tips
Author: Michaela Wachal, Clinical Pharmacist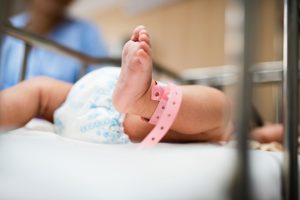 January is National Birth Defects Prevention Month. It's important to remember that not all birth defects can be prevented. However, there are many choices you can make during your pregnancy to help keep your baby healthy. Learn more about how the choices you make regarding medications, weight management, drug and alcohol consumption, food and travel can affect the health of your baby. Here are eight tips to help you prevent birth defects.
Schedule a Wellness Visit with your Doctor
Schedule a wellness visit with your doctor, and tell him or her that you're planning to start a family. Together you can look at family history, lifestyle behaviors and other factors that determine the risk of your baby developing birth defects during your pregnancy. Make sure you're up to date on all your vaccinations, including the flu shot. If you have a preexisting health condition, such as diabetes, you and your doctor can figure out the best way to manage your health and the health of your baby.
Talk to Your HPS Pharmacist
If you're pregnant or planning to become pregnant, be sure to tell your pharmacist at Hy-Vee Pharmacy Solutions (HPS). Your HPS pharmacist can walk you through all your medications and help you determine if there are potential side effects that could cause birth defects. Let your physician know right away if you become pregnant or are trying to come pregnant so you can discuss the risks and benefits of your medications during your pregnancy. Do not stop taking your medications until talking to your doctor. Your HPS pharmacist will work with you and your doctor to determine the best medication therapy plan before and during your pregnancy.
REMS to Prevent Birth Defects from Medications
Ask your HPS pharmacist if there is a Risk Evaluation and Mitigation Strategy (REMS) for your medications. Sometimes the Food and Drug Administration (FDA) approves medicines that can effectively treat health conditions, but can also lead to serious health complications. In these situations, the FDA will develop REMS to help prevent serious medication side effects or complications. If a medication can lead to serious birth defects, REMS may include contraceptive measures and monthly phone calls to help prevent pregnancy in women taking the medication.
Folic Acid Before and During Pregnancy
Folic acid is especially important for the development of your baby's brain and spine early in your pregnancy. If you're planning a family, the American Academy of Pediatrics recommends you increase your folic acid intake one month before becoming pregnant. You should continue taking this important nutrient throughout your pregnancy.
Look for vitamins that have 400 micrograms (mcg) of folic acid. This is equal to 100% of your recommended folic acid daily value (DV). Some foods are fortified with folic acid, which can help you get the daily recommended amount. If you're an HPS patient, registered dietitian Megan Hall can help you make smart shopping decisions for you and your baby. You can also stop by your local Hy-Vee to speak with a registered dietitian in the store.
Manage Your Weight
Before you become pregnant, work with your doctor to reach a healthy weight. Women who are underweight and women who are overweight both have an increased risk of developing pregnancy complications. It's important to manage your weight well before you get pregnant because many diets are not healthy during pregnancy. Your body and your baby will need additional nutrients during your pregnancy, and many diets reduce your nutrition intake.
Avoid Drugs, Alcohol and E-Cigs
Women who use drugs or consume alcohol during their pregnancy are putting their baby at risk by exposing the fetus to harmful substances. Drugs and alcohol consumed in any amount are unhealthy for your baby. To help prevent birth defects, do not smoke cigarettes, use marijuana, drink alcohol or consume any other drug substances while you are pregnant. The American College of Obstetricians and Gynecologists reminds women that E-cigarettes are not safe substitutes for cigarettes and should not be used during your pregnancy. If you have questions about over-the-counter medications or prescription medications during your pregnancy, always ask your HPS pharmacist.
Avoid Raw or Uncooked Foods
Avoid eating raw or uncooked foods during your pregnancy. Consuming undercooked food can increase your risk of contracting bacteria and viruses that cause birth defects. FoodSafety.gov reminds expectant mothers that some foodborne illnesses can harm your baby even if you don't feel sick. Common foods you may want to avoid include sushi, lunchmeat, undercooked steaks and herbal teas. Whether you're eating breakfast or baking cookies, don't eat raw eggs. Pay attention to the labels on the dairy products you consume. Pregnant women should stay away from unpasteurized dairy products, including unpasteurized cheeses like brie and feta. If you have questions about what to eat and what to avoid while you're pregnant, you can speak to HPS registered dietitian Megan Hall or the dietitian at your local Hy-Vee store.
Be Mindful of International Travel
Travel is generally fine during most pregnancies, but you should always check with your doctor. There are additional considerations if you are pregnant and traveling to a developing country or somewhere with an increased risk of getting sick. Before you book your flight, find out if your destination has a risk of Zika or malaria. These viruses can lead to serious pregnancy complications. You should also pay attention to what you eat and drink while abroad. Undercooked foods and contaminated water can make you sick. The bacteria from contaminated food and drink can also be harmful to your baby. The CDC provides additional information for pregnant travelers. Always talk with your doctor before traveling while pregnant.
Hy-Vee Pharmacy Solutions (HPS) wants to help you and your growing family live easier, healthier and happier. Our clinical pharmacists are experienced in managing fertility treatments and most other chronic conditions. If you have questions about how your medication could affect your pregnancy, contact your HPS pharmacist for more information.