Managing Summer Psoriasis
Author: Amy Adams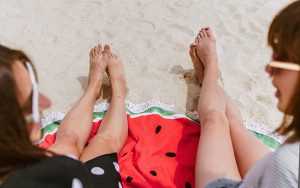 Living with psoriasis can be tricky during the summertime. Many popular summer activities can either help improve your psoriasis or make plaques worse. Some people with psoriasis feel extra pressure to keep their skin clear during the warm months when tank tops, shorts and other more revealing clothes are popular. Keep reading to learn more about what to expect when the weather heats up and how you can manage psoriasis this summer.
Sunbathing for Psoriasis
Sunshine can help improve psoriasis in some patients. Summertime is the perfect opportunity to take advantage of this psoriasis relief. Exposure to natural ultraviolet light from the sun's rays can be beneficial but it's important to be smart about it. You may want to start with a little sun exposure and work your way up over time. No matter how much time you spend outside, always apply sunscreen. Ask your dermatologist about the best sunscreen to use with your psoriasis and make sure to reapply every two hours.
Avoiding Summer Skin Damage
The Koebner Phenomenon is when psoriasis plaques start to appear in new places around your body. This happens to some people after their skin is irritated or injured. In the summertime, your skin can be damaged in many different ways, including mosquito bites and sunburns. One of the best ways to prevent new psoriasis plaques from forming is by protecting your skin.
Always wear sunscreen when you're outside and reapply every two hours. Avoid sunburns by wearing hats and swim cover-ups and spending time in the shade.
Keep mosquitos away with insect repellant. Ask your dermatologist about the best way to prevent bug bites without causing your psoriasis to worsen. DEET is a common ingredient in bug sprays, and it's also been known to make plaques worse.
People usually shave more frequently in the summer, especially women who shave their legs. Shaving can also irritate your skin. When you shave, take your time and be careful to avoid getting cuts and razor burn.
Humidity Levels and Your Skin
Summer humidity means the air is full of moisture. This extra moisture helps some people control their psoriasis. Humid days and plenty of sunshine are two reasons that many people enjoy fewer psoriasis symptoms during the summer.
While the outside air often has high moisture levels during the summer, the inside air might be drier than normal. Air conditioning tends to dry out the air, which can make your psoriasis worse. Consider investing in a humidifier to keep the air in your home full of moisture and keep your psoriasis under control.
Sweat and Psoriasis
Sweat can irritate your psoriasis symptoms and lead to more plaques, especially on your face and scalp. Sweat is your body's natural way to keep itself cool, so you don't want to stop sweating. Instead, wipe away sweat quickly, and try not to sit in sweaty clothes. It may be helpful to carry cleansing wipes for your face. If you wear hats, make sure they're made out of breathable material to keep your scalp cool.
Swimming with Psoriasis
If you're looking for an excuse to visit the beach, do it for your health. Soaking in salt water may help soften skin plaques and improve the look of your skin. If a beach vacation doesn't work for you this summer, try adding a little Epsom salt to your backyard pool or your home bathtub. This "staycation" version of a day at the beach can still reduce inflammation and itching in some people with psoriasis.
Sitting in a hot tub is another popular summertime activity that may have benefits for psoriasis sufferers. Soaking in the warm water can soften and rehydrate flaky areas on your skin. Be mindful of how much time you spend in the hot water, however. Too much time in a hot tub can cause more skin irritation later.
Pools often have a high concentration of chlorine. Chlorine can aggravate psoriasis symptoms and further dry out your skin. If you don't want to completely avoid chlorine pools, be sure to shower right after exiting the pool. Ask your dermatologist about specific chlorine removal products that may make it easier to get the chemicals off your body.
Swimming, soaking and splashing in the water is a great way to spend your summer days. Psoriasis doesn't have to stop you from participating in these activities. Once you leave the water, you can help prevent psoriasis flare-ups by using a good moisturizer. After you shower, try applying a thick, creamy moisturizer, especially to the areas affected with dry, flaky skin. Scent-free creams might be a better option because fragrances sometimes cause skin irritation.
Summer Psoriasis Wardrobe
Light, breathable fabrics, like cotton, are often summer wardrobe staples, especially for people who have psoriasis. Clothing made out of these fabrics will help you stay cool all day long. Lightweight long sleeve shirts and long summer dresses can help protect your skin, without making you uncomfortably hot.
Have Fun
Summer fun might be just what the doctor ordered for your psoriasis this summer. Stress and anxiety can make psoriasis worse, so use this summer as an opportunity to relax and have fun. If you're planning any trips or vacations, don't forget to coordinate with your Hy-Vee Pharmacy Solutions pharmacist. Make sure to pack enough medicine to last your entire trip and keep everything secure in medicine travel containers.
Summertime often means beach days, sunshine, barbeques and healthier skin for many psoriasis sufferers. Enjoy your favorite summer activities safely by wearing sunscreen and protecting your skin. Always take your medication as prescribed, even if you notice improvement this summer. If you have any questions, talk to your doctor or Hy-Vee Pharmacy Solutions pharmacist.
---
About the Author
Amy Adams, the Hy-Vee Pharmacy Solutions Pharmacy Manager, has been with HPS for over six years. Her favorite part of working here is making a difference in patients' lives. She's been married to her husband, Jason, for 18 years. Together they have two kids, a cat and a turtle. When she's not working or spending time with her family, Amy likes to read and do anything outside.
This information is intended for educational purposes only. The material is not a substitute for professional help or medical diagnosis. It is important that you consult a medical professional if this information leads you to believe there is a concern for you or your patient(s). The diagnosis and treatment of all physical and/or psychological disorders requires a trained professional.