The Importance of Medication Management to Achieve Crohn's Disease Remission
Author: Amy Adams, Clinical Pharmacist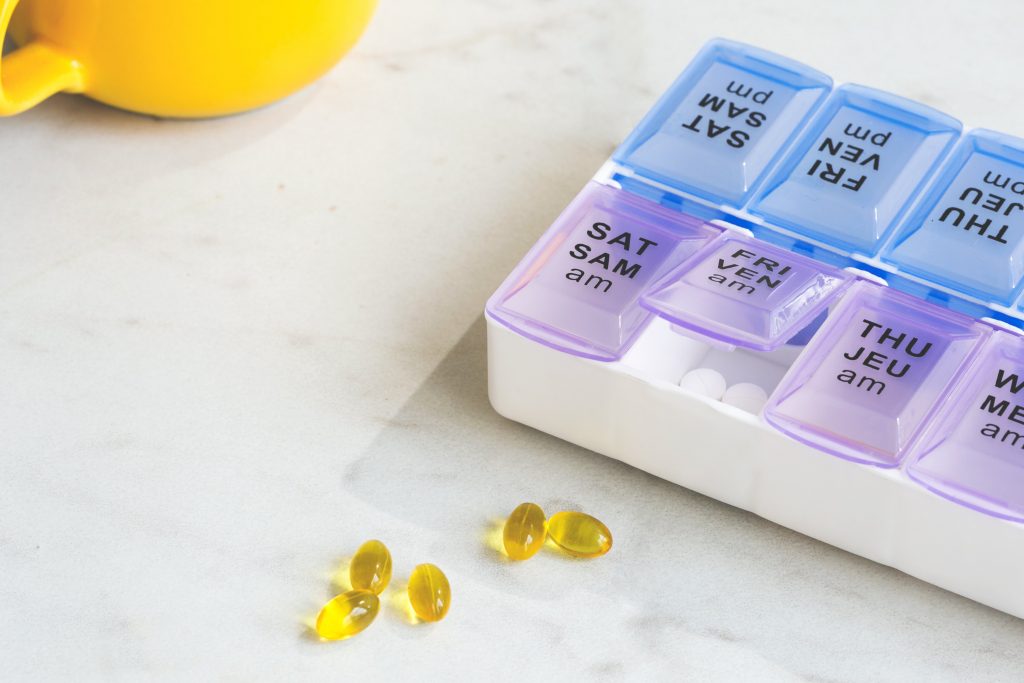 Crohn's disease is an inflammatory bowel disease that affects the gastrointestinal tract. The right medication therapy helps many people achieve and maintain Crohn's disease remission. Hy-Vee Pharmacy Solutions (HPS) emphasizes the importance of medication management to achieve Crohn's disease remission to our patients and to anyone living with Crohn's disease.
Medication Therapy for Crohn's Disease
There are many medication therapies available to help you manage your Crohn's diagnosis. Together, you and your doctor will determine which therapy will be most effective for you. Many prescription medications to treat Crohn's disease are designed to reduce inflammation. The Crohn's and Colitis Foundation offers more information about specific types of medications used to treat Crohn's disease.
You may be prescribed antibiotics to treat Crohn's symptoms or complications related to your condition. Your doctor or HPS pharmacist may also recommend over-the-counter medications to support your nutrition, prevent diarrhea, relieve pain and help manage other common symptoms.
Over-the-Counter Medications, Antibiotics and Crohn's Disease
Talk to your pharmacist about all your prescriptions, over-the-counter medications and any additional supplements you may be taking. Your HPS pharmacist will check your complete drug profile for potential drug interactions. Some medications can be hard on your intestines, causing Crohn's symptoms to flare. Ask your doctor or HPS before taking anti-inflammatory pain medicines such as ibuprofen or naproxen. You should also talk to your doctor or HPS pharmacist about how antibiotics could affect your Crohn's disease symptoms. While antibiotics are sometimes used to treat Crohn's disease, certain medications can lead to complications.
Managing Your Medications with Crohn's Disease
The goal of Crohn's disease treatment is to get symptoms under control. With proper treatment, people diagnosed with Crohn's may go into remission. An important part of controlling Crohn's disease is managing your medications. If you are diagnosed with Crohn's, it's important for you to take your medications as prescribed, on schedule. It's easy to forget about your medications when you're symptom-free and feeling well. However, missed doses can cause Crohn's symptoms to flare. Always talk to your doctor or HPS pharmacist if you're thinking about making changes to your medication schedule.
Nutrition Support to Manage Crohn's Disease
People with Crohn's disease can quickly become malnourished or dehydrated. If you are diagnosed with this condition, pay close attention to your diet. The foods you eat may ease your Crohn's symptoms or cause them to flare. You may want to avoid foods that are hard to digest, such as ice cream, popcorn and fried foods. Look for gut-friendly substitutions, such as lactose-free dairy products. Be sure to drink plenty of water to keep your body hydrated. If your Crohn's symptoms flare and you experience diarrhea, it's easy to become dehydrated.
Your doctor, pharmacist or a registered dietitian may recommend nutrition supplements to help you get the nutrients you need. If you have questions about how to get the nutrients you need and manage your Crohn's disease, it can be helpful to talk to a professional. HPS patients can contact registered dietitian Megan Hall for a personalized nutrition consultation. You can also visit your local Hy-Vee store to visit a registered dietitian there.
Stay in Touch with Your Healthcare Team
After you're diagnosed with Crohn's disease, it's helpful to develop a good relationship with your healthcare team. Even when your symptoms are under control, you should stay in touch with your doctor and HPS pharmacist. Pay attention to your Crohn's symptoms. If you notice new or worsening symptoms, tell your doctor right away. If you have questions about your medication therapy or medication side effects, you can always call your HPS pharmacist.
Manage Crohn's Disease with Hy-Vee Pharmacy Solutions
Your healthcare team at Hy-Vee Pharmacy Solutions (HPS) offers a whole-health approach to managing complex, chronic conditions. In addition to clinical experts, you can access our comprehensive patient education and resources program, which is personalized to meet your unique healthcare needs. HPS will be your healthcare partner. Together, we can manage Crohn's disease and live easier, healthier and happier.