Understanding How Patients Access Medication from a Specialty Pharmacy
Author: Teresa Kelley, Clinical Operations Supervisor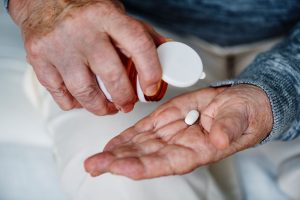 For many people, the first time they hear about a specialty pharmacy is when they're prescribed a specialty medication. Specialty pharmacies operate a little differently than traditional, retail pharmacies. This can cause confusion when it's time for patients to start taking their specialty medication. Hy-Vee Pharmacy Solutions (HPS) wants to make this process easier, so our patients can be happier and healthier. Keep reading to understand how patients access medication from a specialty pharmacy.
What is a Specialty Pharmacy?
A specialty pharmacy is a pharmacy that dispenses medication for chronic, complex conditions. The medicines used to treat conditions like cancer, rheumatoid arthritis, Crohn's disease, HIV/AIDS, hepatitis C and others are often expensive. Traditional retail pharmacies do not have access to many of these medications, which often require special handling, additional patient care and clinical expertise.
Specialty Pharmacy Medications
Specialty medications may be considered "high-touch." A high-touch medication requires additional care and service from the pharmacists, pharmacy technicians and patient support staff. Patient support services offered by a specialty pharmacy often help patients manage medication side effects, achieve better overall health outcomes and stay adherent. Medication adherence means the patient is consistently taking the right dose of medicine at the right time.
At HPS, we provide a comprehensive approach to patient care. All our patients have access to clinical support 24 hours, 7 days a week. There is also a registered nurse, a certified case manager and a registered dietitian on-staff to assist patients with their care. Patient care coordinators call HPS patients regularly to check in and help them manage their medication.
Does My Health Insurance Cover My Specialty Prescription?
All health insurance companies have formularies, which are lists of medications covered under each health insurance policy. The formulary for your health insurance policy will determine whether or not your specialty medication is covered. You can ask your insurance provider if your specialty medication is covered under your current plan. You may also want to find out if your specialty pharmacy is in-network with your insurance provider. If your specialty pharmacy is not in your insurance provider network, you may not get coverage for your medication.
Benefit coordinators at HPS review your insurance policy to maximize coverage. If you have multiple insurance policies, a benefit coordinator will make sure your insurance benefits are applied correctly. This greatly reduces stress and frustration for HPS patients. If there are financial assistance programs available through the drug manufacturer or other organizations, HPS will help you access them.
What Is A Prior Authorization?
Your specialty medication may require a prior authorization (PA) before it's covered by your insurance. This means your health insurance provider requires more clinical information from your doctor before covering your medication or medical device. For example, if you are prescribed a newer, more costly specialty medication and there is a similar medication available to treat the same condition, your insurance provider might require a prior authorization. The insurance company will want to know why the newer medication, which is often more expensive, is medically necessary.
HPS coordinates prior authorizations on behalf of our patients. An HPS representative will coordinate between you, your doctor and your health insurance provider to complete the prior authorization and give you access to your medication.
How Do I Get My Specialty Prescription?
Traditional retail pharmacies are located on street corners and in grocery stores. If you need to pick up a prescription, you can just walk in the store and it's ready to go. Specialty pharmacies operate a little differently. Many patients with specialty medications never actually visit their pharmacy. Specialty pharmacies typically dispense medications delivered right to a patient's front door.
HPS coordinates with our patients to make sure their medication is delivered where they need it, when they need it. When it's time for a medication refill, an HPS care coordinator will call you to confirm the information. HPS also delivers to your local Hy-Vee Pharmacy, so you can pick up your specialty medication at your retail pharmacy. If you have a question about medication delivery or if you need to adjust your medication delivery location, simply contact HPS.
How Can I Contact Hy-Vee Pharmacy Solutions (HPS)?
The clinical team at Hy-Vee Pharmacy Solutions (HPS) is available 24 hours, 7 days a week. You can contact us by phone, email or through the patient portal. The HPS patient portal makes it easier to manage your specialty prescription. HPS patients visit the portal to sign up for text message alerts when it's time for a medication refill, order medication online, track medication packages after they are shipped and register for electronic billing statements.